Original Recipe: http://christiescorner.com/2011/10/19/recipe-old-fashioned-sour-cream-doughnuts/
My favourite Tim Hortons doughnut is the sour cream glazed. I just can't get enough of them. Now that I have a deep fryer, I decided to do some searching for a recipe. This one made some big claims, and it's close, but not quite right. They were good, though.
Yield: Only made 6 four-inch doughnuts and holes; glaze recipe makes far too much
Verdict: I will have to try this again. Good, but not quite Tim Hortons.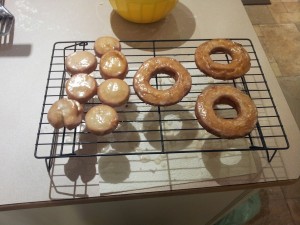 Sour Cream Doughnuts